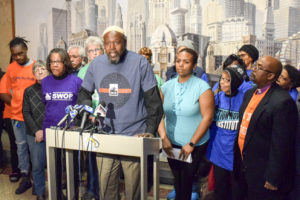 On March 22, 2017, the Grassroots Alliance for Police Accountability released its Community Conversation Report after listening to the concerns of more than 1,650 Chicago residents about police misconduct and community relations.
GAPA is a broad-based coalition of community organizations committed to making neighborhoods safer, improving police practices and accountability and transforming the relationship between the Chicago Police Department and the city's various communities. The organizations in GAPA touch more than 30 wards—including neighborhoods directly impacted by violence and police brutality.
GAPA came together in the summer of 2016, in direct response to the Police Accountability Task Force's recommendation to develop a Community Safety Oversight Board, allowing the community to have a powerful platform and role in the police oversight system. "If the community board is to earn the legitimacy it requires and deserves, its precise powers and makeup should not be set by the task force, but should be developed with broad public input," the report states.
The alliance's focus is to make neighborhoods safer through improving the practices, accountability and community relationships of the CPD, as well as involving affected residents in shaping and advancing lasting solutions.
GAPA is committed to engaging, educating, and empowering the communities we serve so community members can guide recommendations for a Community Oversight Board. Over the next weeks and months, the alliance also will be working with organizations, both locally and nationally, to exchange ideas, learn best practices, and craft how a community oversight board should look and operate.